---
Cloudy pressed apple juice with elderberry

---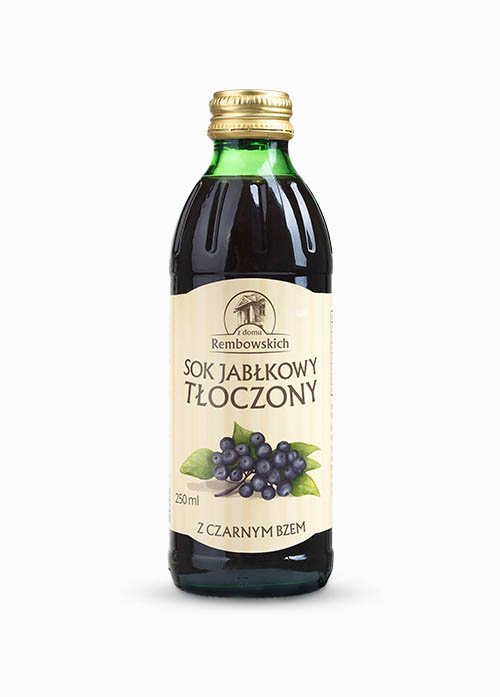 Elderberry is a well known old plant used as a remedy. Elderberry combined with apple gains its full flavor at the same time loosing its bitterness. This juice is a perfect one for making jelly (recipe below).
Elderberry is a diaphoretic and blood cleaning means.
Improves metabolism.It is recommended in curing flu and cold, rheumatism, kidney diseases, gastritis, neuralgia and general exhaustion.
Elderberry is remedy that helps remove products of metabolism and exogenous toxins.
Elderberries contain of vitamins such as: B2, B6, PP, C, H.
Elderberry juice contains an increase amount of precious antioxidants.
Check in store
Ingredients: 88% apple juice, 12% elderberry juice.
Nutritional value in 100 gr. of product:
Protein: 0,1 g
Fat: 0,5 g
Carbohydrates: 11 g
Energy value in 100 g of product:
184 kJ/44 kcal
small bottle: 250 ml 

shelf life of juices: 12 months
The recipe for healthy jelly:
1 bottle of juice, 1 large spoon of potato flour.
Implementation: take 1/3 of the juice from the bottle and mix it with potato flour. The remaining juice pour into the pot and boil it. Add the mixture of juice and potato flour, stir it vigorously for a moment. The jelly is ready!