---
Elderflower cordial

---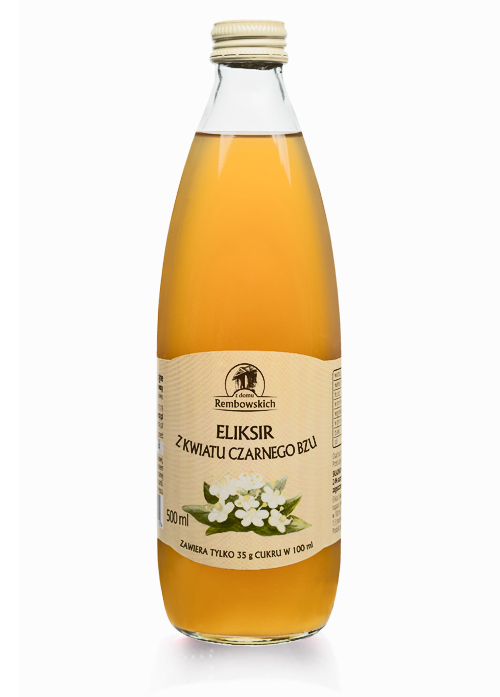 Elderflower cordial is more thick and more intense form of elderflower brew. Thanks to this form we are able to make drinks ourselves according to personal preferences. We recommend adding it to tea and warm or chilled water in preferable ratio. We recommend drinking it regardless of age.

In summer it quenches thirst thanks to elderflower brew. We recommend drinking elderflower potion hot in condition of cold and fewer. Elderflower cordial without need of dilution can be added to puddings, pancakes, ice-creams and other desserts.

Application of elderflower (Sambucus nigra):
Elderflowers are perfect diaphoretic and antipyretic means for children and elder people. It is worth mentioning that elderflowers act anti-inflammatory. They also act as diuretics thanks to flavonoids. These compounds seal up capillaries and increase their flexibility.

Elderflowers mostly contain of flavonoids, polyphenolic acids, organic acids, approximately 0,025% of essential oil, tannins and up to 9% of minerals.

Folk medicine used precious healing attributes of elderflower usually in the form of brew. Elderflower improves metabolism. It is also used as a antipyretic and diaphoretic means.

It also sooths chronic airway inflammation.

It was said in the past that elderflower could substitute whole home first aid kit
Zobacz w sklepie
Składniki: water, napar z kwiatu czarnego bzu (woda, 2,4% suszonych kwiatów czarnego bzu), cukier trzcinowy, zagęszczony sok z cytryn.
wartość odżywcza w 100g produktu:
białko: 0 g
tłuszcz: 0 g
węglowodany: 36 g
wartość energetyczna w 100g produktu:
603kJ/142kcal
Zawartość naturalnej witaminy C w 100 g produktu:
ok. 5-10 mg
pojemność: 500 ml
data ważności soków: 12 miesięcy